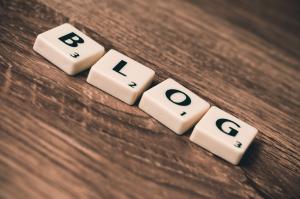 Zamic Blog
Welcome to the new Zamic Blog. Here we will give you the latest updates and howtos for anything new from Zamic and Zamic related.
---
June 28, 2023 - PDF Viewer
Today we launched a new widget that allows you to display PDFs on your Zamic pages. To use the widget all you need to do is add it from the widget menu, click the edit button and then open and import your document. It will instantly be available to view on the page. Of course the page can be shared to your Zamic site.
The widget also has some basic editing functionality. You can write text on the PDF, you can also draw, or if you change the opacity and color, you can highlight text. Currently the PDF can't be saved once you have made modifications, but you can always download the PDF after the modifications and import again.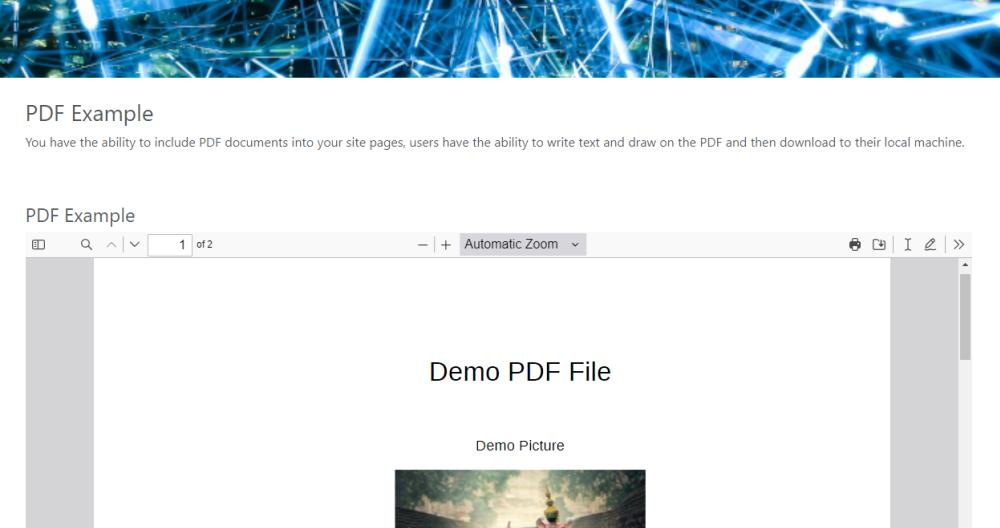 June 26, 2023 - Zamic new public skin and site template added
Today we added a new site template to the template collection. This new template is a lot more basic than the default, it loads faster and is a lot cleaner. The new template menu spans the top of the website from left to right and has the ability to add a header image just below the menu.
We also upgraded the Zamic public site to use a similar template as the newly created site template. This gives for a more modern look with the benefit of public Zamic pages loading much faster.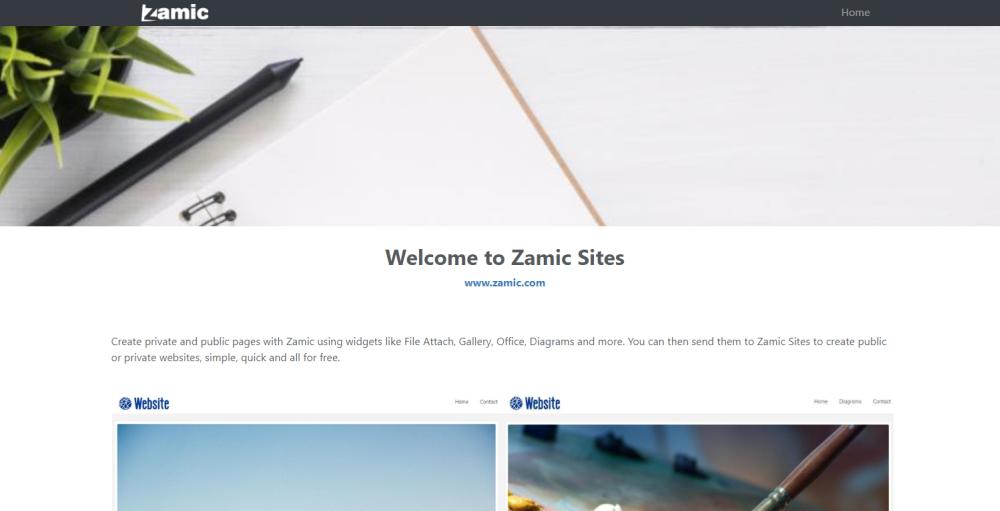 June 17, 2023 - Page and Site Visibility
Did you know that you can control how pages are seen within your group of contacts or the public internet. Pages and site sharing options have a section called 'Visibility'.
The visibility options allow you keep your pages and sites (soon) private. If you set visibility to private, only you and selected contacts can view these pages and sites and need to be logged in to view them. Public and unlisted have different results depending if you are setting them on a page or a site, however both allow your site or page to be reached publicly. And finally Password protected pages and sites (soon), this allows you to put a password on your page or site only allowing people that know this password to access the page or site.
Now, to go through the differences between public and unlisted on pages vs sites.
Pages Visibility
When you set a page to public, this will allow search engines to index your page on the Zamic site, so a page like www.zamic.com/page/blabla can be found when searching inside Google. It will also show on your Zamic profile as a public page and any users that are following you will see it in their data feed as a new page created.
When you set a page to unlisted, it will be hidden from search engines and ask them not to index the page. The page will also be hidden from users who follow you and from your Zamic profile.
Sites Visibility
When you set a site to public it will allow search engines to search and index your site. If you add pages that you have set to be unlisted inside the Zamic page editor, it will still allow the search engines to find and index your site as you have set the site to be public.
When you set a site to unlisted, it will not allow the search engines to index any of the pages on your site whether they are public or unlisted, if the page is public and the site is unlisted, the page will only be indexed on Zamic.
If you are creating a page for a site that you wish to be searchable on the internet, it is recommended that you set the page to unlisted and set the site to public. This will mean that search engines won't find the page on Zamic but will find it on your site.
Example for a site
If I was wanting to create a page for a site I would set the following, the left image is the page visibility, not allowing search engines to index the page on Zamic, the right image is the site allowing search engines to index all of the pages on the site.
| | |
| --- | --- |
| Page | Site |
| | |
May 25, 2023 - Site Pages
Today, we are thrilled to announce the highly anticipated release of the Site Pages widget, a powerful tool that empowers users to enhance their websites on Zamic with a dynamic list of site pages. With this exciting new feature, you can effortlessly create and customize a comprehensive collection of site pages, offering visitors an intuitive navigation experience.

Getting started is a breeze! All you need is a Zamic site, and you're ready to unlock the full potential of the Site Pages widget. Simply navigate to the desired page within your Zamic site where you want to display the list of site pages. From there, seamlessly add the Site Pages widget to the page, and voilà! You're well on your way to organizing your website's content in a sleek and organized manner.

Once the widget is added, you can easily configure it to suit your preferences. Choose the specific site you want to showcase pages from, ensuring that you have complete control over which pages are included in the list. With just a few clicks, you can effortlessly add and remove pages from the selected site page widget, allowing you to curate the perfect set of pages that align with your Zamic site goals.

But what does the Site Pages widget look like in action? We've got you covered! Check out our example page here to see firsthand how this incredible feature enhances the user experience and elevates your Zamic site's navigation.

With the Site Pages widget at your disposal, you can say goodbye to cluttered menus and confusing site structures. Take advantage of this powerful tool today and revolutionize the way your visitors interact with your website. Get started now and experience the seamless navigation and enhanced user engagement that the Site Pages widget brings to your Zamic site!
What it looks like on the public website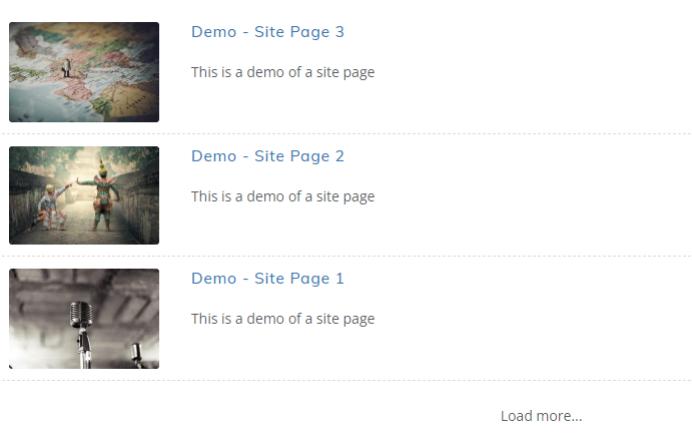 What it looks like inside the admin console, you can change the page order, view and remove the page from Site Pages.

April 18, 2023 - Widget View

Today we have released a new feature that allows you to display Zamic widgets in a number of different ways. Prior to the update, when viewing widgets on a published page, they would be displayed from top to bottom with the optional widget title at the top of each widget.
Now with the update, you can select 'inline' which is the default top to bottom view of the widgets. We have added 'accordion' which shows the top widget first, all of the other widgets are compressed until clicked on, this expands the selected widget and compresses all of the others. We have also added 'tab', this view places all of the widgets into tabs with the widget title being the tab title, a person viewing the page can cycle through each of the tabs displaying the selected widget data.
Accordion
Tabs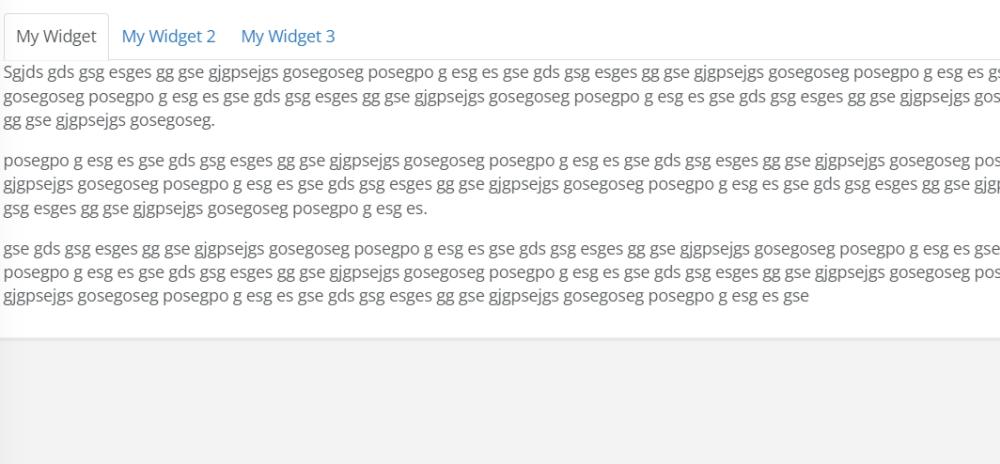 Inline, accordion and the tab options can be enabled on the page tab when editing a page.


April 17, 2023 - Diagrams

Today we are pleased to announce the new widget, Diagram. The Diagram widget allows you to create flowcharts, network drawings, electrical drawings, floor plans and many other diagram types. Being a Zamic widget, you can keep your diagrams private, share with a particular list of contacts or make public and optionally share to a Zamic site.
You have the ability to import Visio shapes into the widget from your device, you can import, export and print your diagrams directly from the widget. Diagram is also setup with an autosave feature, each time you make a change, the widget automatically saves your changes making them instantly available for others to view.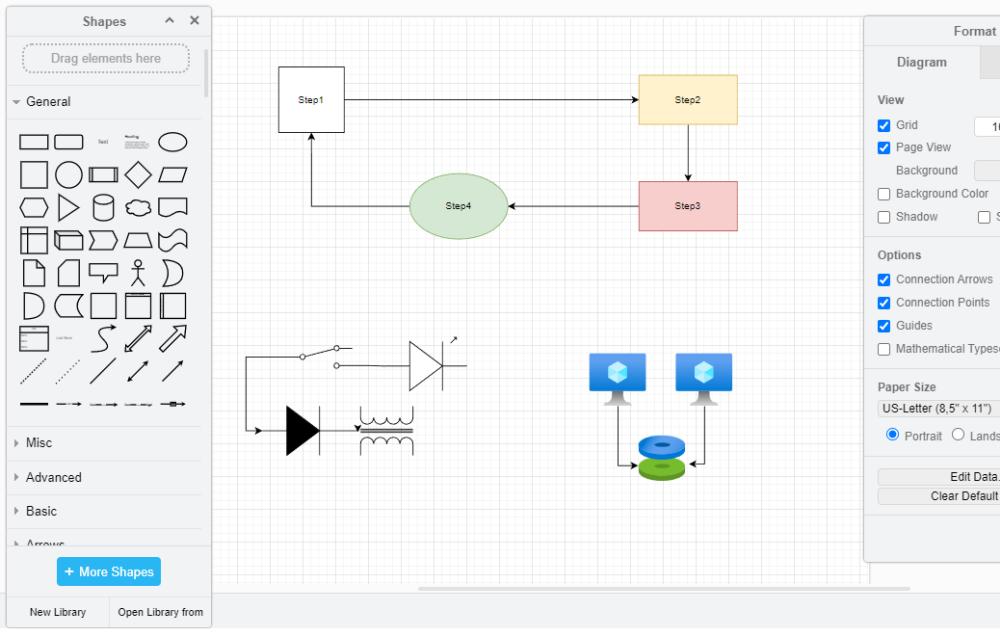 March 21, 2023 - Zamic editor update
Today we released a new update which increases widget performance along with the release of a replacement article editor. The new editor is used inside the profile, page, group and article widgets along with being inside a few other widgets including the Form DB email template editor. The new editor is being actively developed, contains many bug and feature enhancements compared to the previous version.

March 01, 2023 - Zamic Sites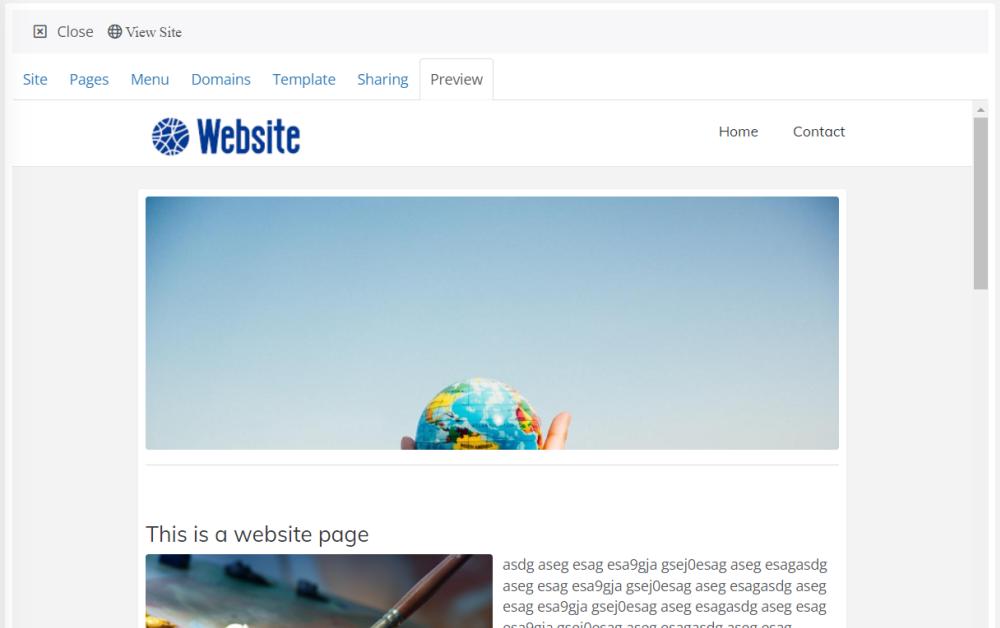 Over the last few days we have released the new Zamic Sites feature. Zamic Sites allows you to share the pages you create to a website built right within the platform. Currently we only have a default template in the Sites page, but this can be customized with a logo and header image. Currently Zamic Sites only allow for public websites to be created, but we are working behind the scenes to allow for private and password protected sites to be created.
Menu - Zamic Sites allows you to assign menu items to pages you have added to the site, you can arrange the menu in the order that you desire.
Domains - You can choose from a number of domains for free including your-domain.zsite.site, your-domain.zsite.org and your-domain.zsite.blog, you can also use your own domain name by pointing it to the Zamic Sites servers.
Template - You can view and customize the template by clicking the template tab and then selecting settings. You can upload images and choose which items you want displayed on your site.
Sharing - You can share the site with other Zamic users. You can provide basic view and/or edit rights allowing other users to customize the website.
Preview and View Site - You can preview the site at any time by clicking on the Preview tab, click on the menu and see how the site responds. You can view the full site by clicking the View Site button.
February 23, 2023 - Zamic Blog
Welcome to the new Zamic Blog. Here we will give you the latest updates and how-tos for anything new from Zamic.